One of the most successful creations of BioWare games is Jade Empire. This is so popular among the people such that its new versions are continuously coming till now. If we talk about its latest version it was released a few years ago for iOS users as a special edition. Last year, the BioWare game upgraded their backward compatible version to 4k resolution for Xbox One X and it has pretty good graphics and visuals.
As per the news, EA is avoiding BioWare for making another Star wars, old republic games. Although, BioWare is still trying to get their approval. Maybe, there will be the chances that BioWare will release the Jade Empire 2 on another platform.
Ray Muzyka, BioWare co-founder stated in November 2005 that "BioWare definitely plans to continue the Jada Empire franchise".
The Plot of Jade Empire?
Jade Empire is an action-role playing video game that was developed by BioWare games and published by Microsoft Game Studios for the Xbox. 
BioWare game released Jade Empire on April 12, 2005, for the Xbox, and they released the Window version on February 27, 2007.
In this game, "Spirit Monk" most frequently dubbed is controlled by the players. There are six available pre-set character archetypes having different statistics, these statistics are categorized into health, magic energy(chi), and Focus. These statistics are used to slow down time during combat or use weapons. There are three male characters and three female characters. There is also one male character that is present in the later versions. Besides this, players can also engage in a shoot'em up mini-game with a flying machine, and they can earn items and additional experience.
There are a protagonist and a chosen follower who are fighting individually or in groups. There are different kinds of enemies available that are normal humans, monsters, and spirits. There are also several types of attacks that are normal and heavy. Heavy attacks are those which take a longer time to execute during dealing with brutal damage. There is one more kind of attack that is an area attack. It is a most powerful attack because it damages multiple enemies. Apart from blocking, enemies and the protagonist are also able to dodge attacks. The protagonist uses different techniques, which are purely offensive or guard-breaking techniques that are buffing and healing techniques. There are different types of fighting styles that are hand-to-hand, while the rest of them are tied to a weapon. In the console version of the game, each four face buttons are having techniques. If we talk about the PC version, number buttons are assigned with techniques. Chi is required to Magic-based attacks and techniques.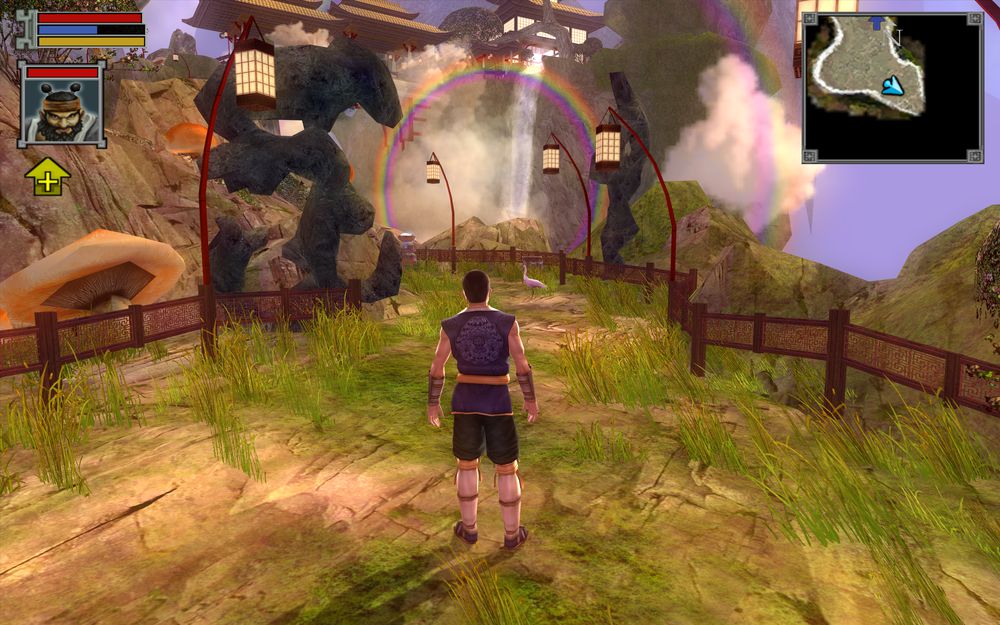 Cast Of Jade Empire
Voice Cast:
-Jocelyn Ahf as The Water Dragon
-Victor Brandt as The Black Whirlwind
-Cam Clarke as Sky
-John Cleese as Sir Roderick Ponce von Fontle bottom
-Josh Dean as Henpecked Hou
-Barry Dennen as Master Li
-Robin Atkin Downes as Sagacious Zu
-Paul Eiding as Kang the Mad
-Nathan Fillion as Gao the Lesser
-Kim Mai Guest as Dawn Star
-Sherman Howard as Death's Hand
-Roger L. Jackson as Lorn Yun
-Masasa as Silk Fox
-Gord Marriott as Ya Zhen
-Brian Doyle Murray as Qui the Promoter
-Chris Postle-First Degree Gravedigger Shen
-Nicki Pugh as Wild Flower
-George Szilagyi as Minister Sheng
Additional Voices:
Julian Arnold, April Banigan, Shannon Blanchet, Wes Borg, Andrew Bowen, Victor Brandit, Corolla Claims, Joey Camen, Clinton Carew, Robert Clinton, Josh Dean, Melissa Disney, Jeff Doucette, Terri Douglas, Paul Eiding, Carey Feehan. Vic Polizos, Gustavo Rex, RD Robb.,Cathleen Rootseat, Jan Alexandra Smith, Larc Spies, Josh Stamberg, BJ Ward.
Release Date Of Jade Empire Season 2?
In 2020, the makers of Jade Empire releases an official statement that there is no sequel ofJade Empire. In the continuation, they said that "there are no current plans to produce one".
Ray Muzyka, BioWare's co-founder releases a statement in September 2011 that " It's an IP, it's a setting that we were passionate about, and we still are. Both Greg and I were big believers in the IP, We're just looking for the right way to deploy it".
As per the news, there are very less chances that the sequel of Jade Empire will come.
Where Can We Watch the Trailer?
Currently, there is no trailer or teaser available for Jade Empire 2. However, fans can enjoy the Jade Empire special edition trailer from below:
https://youtu.be/ncFifQHc9lI
IMDb Rating
Jade Empire got an 8.5 IMDb rating out of 10, which clearly shows that it is famous, loved by the audience. It has action, drama, fantasy. That's why the audience loves to play this video game.
FAQ
What are the system requirements for playing the Jade Empire special edition?
The Minimum requirement that the user must have are Windows XP, AMD Athlon 1800 XP or Pentium 4 1.8 GHz, 512MB RAM, 8 GB Free HD Space, DirectX 9.0, NVIDIA GeForce 6200 or ATI 9500 or better, 100 % DirectX 9.0 compatible sound cards and drivers.
Can Jade Empire 2 Fix And Update Jade Empire's Definition?
No video game in today's generation is without flaws and odds because of the continuous enrichment of thoughts and wants of the player. Jade Empire was also not without its imperfections. The Open Hand Clutch karma tracks were supposed to describe famous philosophical ideals, but additionally, too frequently modify into childish "baby-kissing/baby-kicking" types of basic and silly moral dilemmas. The Jade Empire sequel, BioWare could pull on years of progress in game design to create a more ornated, open-world adventure that better represents or denote or give the experience of the tropes of Chinese fiction and the "Wuxia" kind of sort. 
In adding the company must improvise the modern techniques of martial arts alike running up the walls and jumping between buildings, learning special techniques from idiosyncratic and unusual kung fu masters, training their own followers, and all the while fighting for fairness, true emotion, and the well-being of their country as well.
Where can we play Jade Empire Season 2?
You can play it on various platforms like Xbox, 2K Games (PC), TransGaming (macOS), Aspyr (iOS, Android), and Electronic Arts (Steam, GOG.com)
Conclusion
The history of BioWare can be seen in GameInformer, which is pointing reference to the Jade Empire franchise. Mike Laidlaw, Bioware creative director stated that "Jade as a sequel is never dead".So we can these statements as a signature to the sequel of Jade Empire. There is a ray of hope that fans can get the Jade Empire 2.