You all will be familiar with the famous Harry Potter movies and if you are not go and watch one and Thank me later! Hogwarts Legacy is an upcoming game based on the famous movie or book Harry Potter. The release date of the game is not yet fixed but it will be release in the upcoming year, 2021.
Hogwarts Legacy will be an action role-playing game. It's theme is set around the time of late 1800s in the wizarding world. The game is developed by Avalanche Software and published by Warner Bros.
The game will be released for Microsoft Windows, PlayStation 4, PlayStation 5, Xbox One, Xbox Series X/S.
Hogwarts Legacy – Official trailer
Talking about the trailer, PlayStation has recently released the Official trailer of Hogwarts Legacy and fans going crazy about this game. We can guess it by seeing the watching of the Trailer which is 14M views on the YouTube which is one of the highest watching trailer tan any other gane. Not the players but harry potter fans are also excited about this game too. Furthermore, given below are some of the reaction of fans for this game which I love –
TheInspirationalMind commented
" I literally freaked out when I saw this reveal! It leaked such a long time ago, but still looking incredible"
Tapas Paul commented
" I wish Harry Potter series continued to eternity"
Mahir Cave commented "Looks like a Dream came true"
Read more: RetroMania Wrestling Is Coming Soon… | Release Date, Official Trailer
Game-plot and Game-play Hogwarts Legacy
Introduction with Game-play
Hogwarts Legacy is a single-player game will be set at the time of 1800s revolving around the students of Hogwarts. These students attend their classes at Hogwarts School of Witchcraft and Wizardry. As per we know from the trailer that the game will start by each student getting selected as a wizard or witch in different Houses.
Your character in the school
While being in school you'll have to do certain things and play as one of the character in school at the same time. Some of them are –
• one of the students reading and learning magic in this School.
• You will learn the magical spells,
• how to make different kind of portions,
• will learn how to fly with a magic broom. Yeah, you heard it right.
• Will meet different kinds of creatures some will be good while others, you know!
• You will master in fighting and other abilities.
Besides this their will be a lot of secret from which we are unknown. In addition to this you will meet with great adventure and danger at the same time outside the school. So be careful!

How much it resembles to Harry Potter Movie?
Although the game is from the famous book J.K.Rowling's Harry Potter but you might will not meet with the Harry Potter here! Fans are getting confused because of this. There will be no Hermione Granger and Ron Wesley in this game. The story line is from late 1800s when they all didn't born. During the time when the author's original story of Harry Potter was not written.
Resemble with Harry Potter?
So you might ask me now, How much Hogwarts Legacy resembles with Harry Potter original story?
I would like to inform you that Hogwarts Legacy is a portkey game and portkey game are never matches with its book or movies. Moreover the developers of the game try to be true to J.K. Rowling and maintain the standard of the games by setting up the same things as they were in the movie like, the Hogwarts library, the talkative portrait, the magic flying candles and many more. They are same as they were in movies and books.
What are Portkey games?
From Warner Bros, firstly Portkey games is a title dedicated to the wizarding game in worldwide which is played on the mobile or PCs and secondly this type of game enables the player to create his/her own story and choices by engaging him to the magical world of Hogwarts.  You will be  the main character of thid story and also plays the center of your own adventure simultaneously.
Advantages for a player
Furthermore this game helps the player, gamer or a fans to experience the well-known world of magic at the same time allowing him to play himself because somewhere deep inside everyone is waiting for the owl to bring their Hogwart's Letter *wink*
Portkey in Harry Potter
In Harry Potter series, Portkey is a magical enchanted item not only this but with the help of it anyone can transport within a second to the location where they want just by touching it. Furthermore the Muggle (normal Human being who aren't able to do magic) cannot see the Portkey. It is just similar to a everyday object that will not catch anybody's attention. That's why the developers gave it a Portkey game because it will led you to the wizarding world and anyone will not be able to know.
Interesting things to notice in the Hogwarts Legacy.
• Sorting Hat –
Firstly, a sorting hat is a hat which will tell the player in which house he'll go. When a new student enter in the school the sorting hat chooses the house of the young wizard. And secondly the house are divided into 4 in Hogwarts –
1. Godric Gryffindor
They praise bravery, courage and nerve.
The wizards of this house are daring and
Their symbol is Lion
The color is Red and gold.
It's element is Fire.
2. Salazar Slytherin
They values cleverness
the students of this house are ambitious
Their weapon is Serpent.
The colour is Green and Silver
The wizard to this house tend to have a pure blood.
3. Ravenclaw
This house is defined as the house of wise wizards
The symbol is Eagle.
Beside this Ravenclaw's colour are blue and bronze.
The element of this house is Air
The founder of this house is Rowena Ravenclaw.
4. Hufflepuff
The last but not the least Hufflepuff house wizards are loyal and fair.
The founder of this house is Helga Hufflepuff
The element of is Earth
Their mascot is Badger.
Hafflepuff house colour is yellow and black
• A little touch of Fantastic Beasts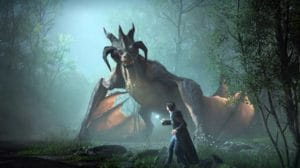 If you are a fan of Harry Potter series then you will know what is Fantastic Beasts.
As we can see in the trailer of the game One student is seen to feed some wide eye cute Moonclaves. In addition you can also spot a troll, a hippogriff and a graphorn. Moreover the presence of Dragon will add more interest of the player to the game.
• Another Darker world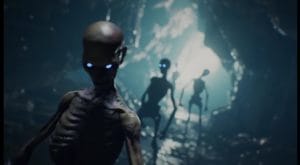 There is not a good game without a dangerous bad character. Likewise how you suppose that this game will not contain something like this? The Magical world is flop without a Darker world so the developers fulfill our this demand too. We can see Inferi (undead corpses) and Dementors (soul-sucking beings) in the game.
Read More: FAU-G Game Releasing Soon | Release Date
Overall the game is superb and the fans have a lot of expectations for this game too. We just have to wait a little bit.